Quality Suits, Sport coats, Blazers and Slacks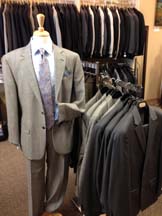 Buying a suit or sport coat should never be a self-service purchase. Our wardrobe consultants will listen to your needs and work with you to find a selection of suits, sport coats and blazers that are right for your particular needs, and at a price that fits your budget…after all, value means the best quality at a price right that's right for you. We offer competitive prices on the most desired tailored clothing labels in the industry.
There are times when nothing less than a suit is appropriate, but when you can relax a bit, our great selection of comfortable sport coats, blazers and slacks will take your from casual Fridays right through the weekend.
To maximize the value of your wardrobe, we will coordinate dressy and casual slacks in everything from dressy wool gabardine to more casual wrinkle resistant khakis. Value means more than just getting quality clothing at competitive prices, it also means getting quality clothing that fits perfectly. At Gary Michael's Clothiers our tailors have gained the reputation as the fussiest and most meticulous tailors around, and they take pride in every stitch of their work. Gary Michael's Clothiers offers same day tailoring.