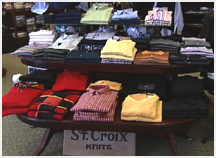 Whether you are spending a relaxed weekend in the country or an active weekend in the city, Gary Michael's Clothiers carries all the comfortable casual clothing you need for any activity.
Sweaters, shirts, slacks, jackets and shoes by the most desired designers in the industry today.
From classic V-neck sweaters to contemporary mocks, our wardrobe consultants can help you put together the right combination of sportswear that compliments your lifestyle. Each piece will become a personal companion for those carefree times of leisure and fun.