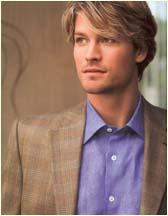 When it comes to business casual, there's no simple answer on how to dress. We all know how to dress casually. But dressing casually for business entails more that just throwing on a pair of khakis and a polo. Business casual is not dressing down . . . it's dressing elegantly and comfortably, in a more informal, less constrictive way.
Our wardrobe consultants will show you what business casual is and what it isn't and then assist you in putting together all of the components necessary to develop a business casual style that fits your specific circumstances and needs. Remember . . . what's right for a computer technician to wear at work may not be right for an attorney, even if they are both 'casually' dressed.
Gary Michael's Clothiers has earned the reputation as business casual experts by understanding what's appropriate for their clients to wear. Our selection of business casual clothing is unmatched in central Nebraska. Clothes always project an image, and you need to project the same image of success on `Casual Fridays' as you do the rest of the week. We will give you confidence in your wardrobe all week long.